STARTER PACK: Blue shisha hookah +double apple + tongs+charcoal+free postage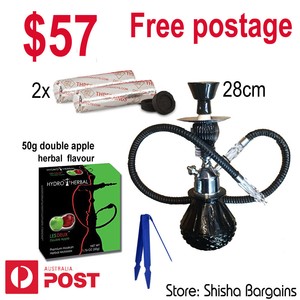 ---
SHISHA STARTER PACK:
(CURRENTLY BLACK COLOR IS OUT OF STOCK).
Please note it comes in two colors- black and blue and in slightly different designs and it will be selected randomly.
included in the pack is popular mitsuba 28cm shisha/hookah, hydro herbal shisha flavor, 2 of the high quality dutch three kings Quick Lite charcoal and tongs.
The small size makes it convenient to travel with it or move it around the house, and yet as good as bigger one and perfectly serves the purpose.
If you'd like natural coconut, please visit our store and add it to this order and the postage will be combined.