New Kids Giant Pedal Powered Go-Kart Outdoor Bike Car Ride Cart Green Toy Buggy 9316341976081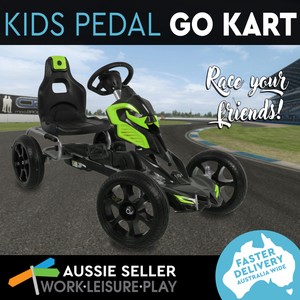 ---
New Kids Giant Pedal Powered Go-Kart Outdoor Bike Car Ride Cart Green Toy Buggy
About Us
Delivery
Returns
Contact
For prompt help Message Us Click to Menu
Home Essentials

Kitchen & Appliances
Bathroom
Bedding

Home Décor

Bean Bags
Artificial Plants

Outdoor Living & Garden

Range Hood
Fire Pits & Braziers

Hardware & DIY

Cement Mixers
Lawn Mowers

Lighting

Floor Lamps
Table Lamps
Pendant Lamps

Furniture
Pools & Spas

Pool Floats
Inflatable Pools

Camping & 4WD

Chairs & Outdoor Furniture
Tents & Swags
Gazebos

Fishing & Boating
Why Choose US?

Australian Company
Fast Delivery
Quality Products
Friendly Support
New Kids Giant Pedal Powered Go-Kart Outdoor Bike Car Ride Cart Green Toy Buggy
Kids Pedal Powered | Go-Kart Outdoor Bike | Green     Have fun on the outdoors with Pedal Powered Go-Kart!   Pedal Go Kart gives great adventure and driving experience for your kids. Boost your kid's endurance, physical and social activity with the other kids in your neighbourhood. With its stylish combination of black and green, this one-seated pedal kart fits perfectly for different sized children that deliver instant comfort and support. It's distinctive sporty design, long lasting features and classy looking tires it will ensure a steady and safe ride. Don't miss out on this Pedal Go Kart for your kids to experience great fun and freedom to explore the outdoors!   FEATURES & SPECIFICATION  
Colour: Green
Item Size: 122 x 60 x 70 cm
Carton Size: 88 x 62 x 36 cm
Weight: 13.5kg
Loading Capacity: 40kg
Kids Age from 5-12 years
High-quality steel frame construction
Adjustable seat position
Handbrake and clutch
High-Quality EVA tires
We are an Australian Seller. Order now and have the best shopping experience
Product Gallery Features FEATURES & SPECIFICATION  
Colour: Green
Item Size: 122 x 60 x 70 cm
Carton Size: 88 x 62 x 36 cm
Weight: 13.5kg
Loading Capacity: 40kg
Kids Age from 5-12 years
High-quality steel frame construction
Adjustable seat position
Handbrake and clutch
High-Quality EVA tires
We are an Australian Seller. Order now and have the best shopping experience!
Delivery Information Warranty Payment Returns We know you'll be keen to receive your order as quickly as possible. Please make sure you provide us with a valid delivery address and contact phone number so we can contact you if there are any issues with your consignment. Our couriers require the recipient's phone number for each delivery. We can't book your delivery unless you have provided us with a valid daytime phone number. For your own convenience please thoroughly inspect all components of deliveries ON THE DATE OF RECIEVAL.The last thing we want is for you to open your parcel on the day you need to use your item and find an issue!Follow our instructions provided in all our listings, and please contact us in the rare case you will find a discrepancy.We will be more than happy to assist you! Please keep in mind the following cut off dates for paid orders to arrive before the 22nd December (Friday before Christmas)WA - 18 DecSA/VIC/NSW/ACT – 14 DecQLD/NT – 12 Dec How long does dispatch and delivery take? Items are generally sent within 24 hours of payment being received. Once items are dispatched, regular delivery times apply. Please allow for a delivery time of up to 10 working days from the date your item is dispatched. Please note there is no dispatch or delivery on weekends or public holidays. What courier will deliver my item? We pack every order very carefully to ensure it reaches you in good condition. Your order will be sent through Australia Post or one of our preferred couriers. All consignments are tracked. The tracking number can be viewed from within your Purchases page. If you are not home at time of delivery the courier has authority to leave the order in a safe place. Do you combine shipping on multiple purchases? Unfortunately, we do not offer combined postage on our listings. We recommend you use 's Shopping Cart for multiple item orders so you can pay in one go. prohibits us from combining orders that have been paid separately. If you have any questions about delivery,contact us via Messages and we will do our best to make sure you're happy. How much to ship to my suburb? Our quoted shipping costs are calculated on a case by case basis depending on where you live so that you get the best available rate.Contact us via Messages with your Suburb and Postcode for your quote. Can you send by Express Post? Due to our highly-automated order processing system, we only send deliveries via registered post. We send thousands of orders per day and because of this, unfortunately we cannot disrupt the process to send by any other means. Please allow up to 10 days for shipping. Can I pick up my order? We're unable to allow pick-ups from our warehouse as we operate with a highly-automated dispatch system which allows us to send out orders quickly and efficiently. Allowing pick-ups would disrupt this process. In most cases, we can dispatch items within 24 hours of your payment being received after which regular courier times then apply. Items listed as PERTH PICK UP ONLY are the only items that may be picked up as they are bulky, if you have ordered a PICK-UP item, please allow 2 business days before your item will be ready. Please contact us via Messages to acquire the pick-up address for the supplier of your specific item. Do you ship items outside Australia? At present, we are only able to ship within Australia. Unfortunately, due to very high freight charges, we do not post to anywhere that is off the mainland of Australia (Islands) for free. Can I change the address on my order? Items are sent and labelled to the address supplied in your account. policy also prohibits us from sending your item to an address other than what is specified on your account. We are unable to receive special request notes advised in PayPal or . WARRANTY & RETURNS All our products are fully backed by Australian manufacturer warranty and come with automatic guarantees that cannot be excluded under Australian Law.
If your item arrives damaged or "dead on arrival", we will arrange a replacement or full refund at our cost
If your item develops a fault after delivery, we will assess your claim and offer a replacement or refund where appropriate.
We offer a 12-month warranty on all electrical, petrol operated & motorised products - claims outside this period will be assessed on a case by case basis.
We have taken great care with our listings to ensure the product is an accurate representation of the product. We cannot guarantee every computer monitor will accurately depict the actual colour of the product. prohibits us from changing the colour of the product that is originally ordered. Please order your colour of choice from the relevant listing to ensure you receive your desired colour. Some listings state "Colour Chosen at Random" due to the nature of the supplier and stock. Many of our products are produced with different patterns and materials which may be classed under the same design name (for example a "marble" pattern is never the same due to the nature of marble), and there may be variance in colour or pattern for this reason.  We understand that you might need to return something to us for several reasons. Please contact us via Messages before sending anything back. Items must be returned to us via tracked postage or courier. Without a verifiable tracking number, you accept full risk of the item not reaching us. Returns not received by us will not qualify for replacement or refund. 1. You changed your mind
We offer a 30-day return policy for change of mind. That means if you are not satisfied with your purchase, you are welcome to return it to us at your own cost up to 30 days after you received it for your choice of exchange or refund, excluding original delivery costs and a restocking fee of up to 20% of purchase price. The return must meet the below-mentioned conditions.
All returned items must be in brand-new, unused condition, in their original shipped packaging, and include all parts and accessories. Where returned items are not received by us in brand new condition, we will return them to you once you pay us the cost of redelivery to do so.
Return shipping costs are non‐refundable. For exchanges, we will cover the cost of sending a replacement product back to you.
2. The item arrived damaged or missing parts
All orders leave our warehouse in brand new undamaged condition. If your item arrives damaged or missing parts, we will gladly replace it for you.
All claims for damaged items must be made within 5 business days of receiving your order. It is important that you open your order as soon as you get it, and notify us immediately if there is any damage. This protects you from any claims after this period may not be covered.
Please take photographs of any damage and send them to us via Messages before sending the item back, as we need to report damage to our insurer, delivery courier and warehouse.
3. The item is faulty
Your purchase automatically comes with protections under Australian Consumer Law that cannot be excluded. Manufacturer warranty fully backs all our products.
In the unlikely case that your item is faulty on arrival please contact us via Messages within 5 days of arrival. Please ensure you follow the care instructions of your item. Manufacturer warranty does not cover 'wear and tear'. All claims will be assessed on a case by case basis, we'll make sure the correct process is followed so the issue can be addressed as quickly as possible for you.
Should your product be faulty, please contact us via Messages so we can guide you through the correct process for having the fault rectified under the manufacturer warranty? Depending on the manufacturer's warranty terms and requirements, we will either repair or replace it for you (or if stocks are exhausted, refund you) excluding original delivery costs. Terms and Conditions Payment and postage terms may vary on individual items. Immediate payment is required before your item can be posted. Payment methods PayPal only. If you do not use PayPal you may check out as a "Guest" via the PayPal. Sales tax The GST is included in the final bid price. We provide a tax invoice with all sales. We accept returns. Please contact our customer service team immediately if:
You have changed your mind and wish to request a return
Your product was damaged during transit
You wish to make a warranty claim for any product you have purchased
You are not satisfied with any product that you have purchased
Please note that you must comply with all return instructions provided to you via your registered email address. All returns must be directed through Customer Service. Please do not return or post items before obtaining instructions from us - if you do, there is a risk that your returned item may not be identifiable and your returns may not be accepted. Shop
Home Essentials
Home Décor
Outdoor Living & Garden
Hardware & DIY
Lighting
Furniture
Pools & Spas
Camping & 4WD
Fishing & Boating
Information
About Us
Payment
Delivery
Returns
Contact
Follow us Follow us for member-only special offers and sales. JOIN NOW View our Collections Proudly Australian for over 10 years with everything you need for Work, Leisure and Play.! Copyright © 2017 Work Leisure Play. All Rights Reserved.