Handmade cotton paper Leather journal Tree of Life - Medium Celtic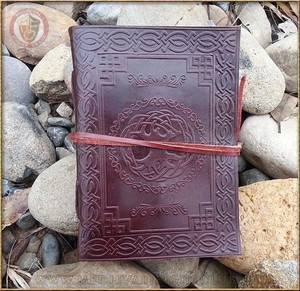 ---
Handmade cotton paper Leather journal Tree of Life - Medium Celtic Handmade cotton paper Leather journal Tree of Life - Medium Celtic

This handsome leather bound journal makes an ideal diary or scrap book. With durable pages made from recycled cotton & permanently bound in quality embossed leather, this journal won't deteriorate in your lifetime. When you finish one journal you can simply start another and keep your work in a collection. Best of all it would make a great addition to your personal library.

This journal features a beautiful embossed and detailed weave pattern with a tree of life symbol. Adults & children alike will enjoy writing on this recycled cotton quality paper.

Our journals are larger with more pages than those sold elsewhere.

Materials: Leather and Cotton Paper Pages: 240 Weight: 310g (approx) Dimensions: 18cm (7 inches) x 13cm (5 inches) x 3cm (1.2 inches)

PLEASE NOTE: The image is a fair representation of the item available. Each item is handmade and so variations in the leather colour, leather work and other decoration (i.e stones) will occur.

Medieval Fight Club is a well known, well established, and respected supplier of all things historical. It has always been our mission to never give you incorrect information or make overstated claims just to secure a sale. We have developed our product knowledge over decades of involvement with combat re-enactors, living historians, LARPers and CosPlay.

This product ships from Australia

Payment & Checkout Shipping Info Feedback Returns & Warranty

Payment & Checkout
Checkout: Once you "commit to buy" or the auction closes, you can checkout with the system. The sooner we can confirm payment the sooner the item will be sent. During checkout you will be guided to the paypal payment Link. You will be able to Pay through Below:

Payment:

We accept all forms of payment allowed by . We actually PREFER

VISA/Mastercard - please call toll free or visit the warehouse. DIRECT DEPOSIT - details supplied when making purchase. PAYPAL

Shipping Info

Your item will usually be shipped within 1 business days of receiving payment.

Fight Club uses Registered Post for MOST Australian transactions unless otherwise indicated. Should an item go missing we will do our best to help you track the item. Overnight Express Post is available on request - please let us know if you need this service and we can quote for you based on your location.

Some larger items (i.e longer swords, breastplates or large helmets etc) need to be shipped by courier. You must supply an address where someone is available to take delivery during business hours - a workplace address works best for this. If no-one is available the courier will be authorised to leave the package without a signature. Please let us know after winning an item if this presents any difficulty and we can work together to overcome the issue.

Pick Up is available Monday to Friday by appointment from our warehouse at Wyee NSW. We do not run a shopfront but we welcome collection from our distribution warehouse
Shipping times - An estimate delivery time in business days. Most products can be sent express for a little extra if required. Please allow up to 48 hours after receiving payment before your items are dispatched, however in most cases it will be less.
Region
Normal times (in days)
Express times (in days)
Australia - NSW, QLD, VIC
3
Overnight *
 
Australia - TAS, SA
5
Overnight *
 
Australia - NT, WA
7
Overnight *
 
New Zealand
5-10
3-7
 
Asia / Pacific
10-15
3-7
 
USA, Canada, Middle East
10-15
3-7
 
Europe, UK, African Countries
10-15
3-7
 
* Overnight express available only in major cities and major regional areas of Australia. Other areas will still receive priority service. Larger items may require courier and therefore may take a couple of days. International Post - International shipping is usually Express Post or Registered. International Customs - Fight Club cannot be held responsible for all duties & taxes charged by your customs office for receiving goods. You are responsible, so please check.

Feedback

Please do not forget to give us FIVE STARS on all of the Detailed Seller Ratings. We strive to ensure you the buyer are as happy as you can be with our products.

In the unlikely event you are not satisfied with the transaction, please contact us before you sumbit an evaluation. We believe that everything could be solved with good communication.

1. In order to provide you the best service  , please treat the transaction fairly.  Feedback is simply what we pursue. 

2. Please DO contact us first to get a better solution before you would leave a  neutral or negative feedback

3. We strive for 5-star service by stating upfront our policies, our shipping rate & our shipping frequency. If you were pleased with this transaction, please respond with all 5 stars! If you are not pleased, simply let me know via e-mail rather than leaving a low score, and we'll work to fix any problem.

Enquiries - Please contact through "MY MESSAGES" or "Ask Seller Questions"or email us or or phone our toll free number if you have any question about our listings or your purchase.

Returns & Warranty
Return: Please contact us within 14 days if you are not happy with your purchase. We do accept returns on items as long as the item has not been used and is returned to us in the condition we sent it. Usually buyer must cover cost for item to be returned - however this is negotiable in consultation with Fight Club. Price paid (minus postage/courier fees) will be refunded - alternatively a store credit for use on or our online retail store can be arranged. Warranty: We offer warranty in that all our products should be free of manufacturing faults or defects. If you are unsatisfied then please return for a refund or replacement.

BUY WITH CONFIDENCE FROM PEOPLE WHO KNOW THEIR PRODUCTS

Our customer service is second to none because this is our business – we will not leave you waiting for answers. We offer great prices direct to everyone, including re-enactment groups & collectors because we are passionate about what we do and hope to encourage a similar passion for history in others. We do not run a shopfront but we welcome visitors to our warehouse to collect and save on shipping costs!

Beware of dishonest sellers, unlike them we won't tell you a sword or dagger is full tang or that any weapon or piece of armour is combat ready or made of something special if it is not.  We will give you accurate measurements and detailed descriptions of each item.

Competitive pricing We are a manufacturer, wholesaler and designer of many products so you can be assured of the best price. If you have a bulk order then you won't find a better price anywhere.

Why buy from the Fight Club? Because we know what we are talking about. We don't need to check with a supplier when you ask us a question. We are re-enactors and therefore we know our products and their limitations for re-enactment. We don't just make stuff up and pretend to have experience. We know that after one purchase you will be back - not only because we have the best prices but also because you'll trust our experience and opinions. If you have any questions then you can count on our wealth of experience to answer your questions quickly.. Our founder has over 30 years of historical combat experience. If you have any doubts, put us to the test.

Handy Links

Product Care - Info on how to care for metal and leather products. Click here to read more.

Note on Quality - Info about the handmade nature of our products. Click here to read more.

Choosing a sword - Advice on how to select the right sword. Click here to read more.

Combat Rating - Info on how we evaluate and score combat equipment. Click here to read more.
| | | |
| --- | --- | --- |
|   | Medieval Fight Club - Thou dost nay speaketh of thyne brawling fellowship. |   |