Ford Falcon Fairmont XC Wagon AC PS Antisun XB XA GT GS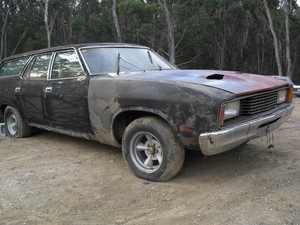 ---
Ford Fairmont XC 4.1 Litre (250 ci) auto Wagon
 Wheels dont come with it but are for sale
 I bought this as a donor car for another project which has since died
 I started to strip it down but stopped
 I then thought I would restore it but I don't have that much patience or talent
Factory integrated air condition, power steering, complete antisun glass, 55 amp alternator, plus more
 Had a GS dash but it's now gone so still wired for one
 Plenum chamber  is excellent no water comes in the footwells
 Matching numbers, engine used to run well but now nearly seized 
 Pump up shocks, V8 radiator support NO radiator
 Grill near perfect, all mounts intact, no cracks
Seats need recovering but complete, interior missing dash & fascia, glovebox, AC controls 
plus a few other bits & pieces.
 Lets be upfront. She has a lot of rust but repairable
 I have many other pics (40+) 
 Copy & paste link, preferably from a computer to zoom in on pics
 http://photos.google.com/share/AF1QipMt0Bi60xn7jwc06VjJIyFQywIimJTdQGO6a2
WF55WMvSpT9D9b8RQARATd_yIdgA/photo/AF1QipM4bHXKYL8dtCo0pp3nzN6kL3szaVydiviG8S_z?
key=QjU5VldXRHpCamJldHpjUUVoNTZDc0o4alB4RTB3
or email nperkins at bigpond dot com
 They are detailed pics of descriptions below
 Bonnet needs repairs & has damage to the hinge area
The guards are near perfect with just some minor repair work, looks worse than they are. 
Someone tried to just bog over minor dents in the lower panel & stuffed it up. Didnt even sand back
They DO NOT need rust section just some minor work
The doors are bad but repairable 
 Roof is Good overall but does have some repairs & rust holes where roof rack used to be
Passenger gutter good but driver side rusty.
Windscreen A pillars very rusty.
B & C pillars very good
Hand brake works but the master cylinder is full of water
Electric tailgate window did work when we first got it but not now for some reason. 
I'm sure it will be just corroded connectors 
 The tailgate is rusty but I think it is repairable 
 Bumpers are good, not perfect, but need work & I couldn't find the rear mounts
Roof liner stuffed & even though door cards & arm rests are fair to good they have been recoloured
If I was to part out the stuff would be worth about
The guards, $250+ ea , complete factory AC with ducts, $250+, complete PS $150 
Complete wagon antisun glass $400+ 
GS bonnet, at least $350 even though it needs repairs, good auto $150, pump up shocks $100
Grill & lights $250+ V8/crossflow radiator support $150+ or front end cut $350-$500+
 Then there's all the other bits & pieces, diff, frontend, seats, engine and scrap metal
So if I parted it out I would expect to get somewhere from $1500-$2000 plus 
And I will if it doesn't sell but until then dont ask me to sell bits off it
 Wheels dont come with it but are for sale. Will give buyer first option
NO INSPECTION AVAILABLE
Sorry but got ripped off after the last 2 times I allowed people on my property to look at cars
They bought nothing but weeks later I had stuff knocked off, too much of a co-incidence
Look at my rating, nearly 1200 & never had a negative feedback & dont intend to get one
 I will meet the successful bidder in a location near the Western Freeway Ballarat. 
If I have grossly misled then you can walk away from the deal. 
That said it will be yes I'll take it, no I wont. Not a chance to haggle. 
Cash on pick up & I will provide a receipt
Can deliver or meet up to 100km+ for a fee 
but it & the sale price must be paid upfront by bank deposit
  Happy to answer any question 0427334186
As usual advertised elsewhere & may be withdrawn at any time
 NO 
P
 A 
Y
 P
 A 
L