Duperrey Champagne Nv (6 Bottles)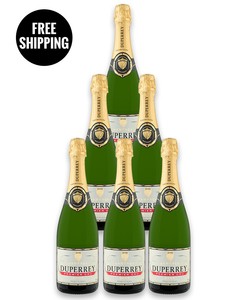 ---
Reds click Shiraz Cabernet Sauvignon Merlot Pinot Noir Other Red Blends Whites click Sauvignon Blanc Chardonnay Pinot Gris & Grigio Riesling Other White Blends Sparkling Mixes Others click Beer/Cider/Spirits Rosé Premium & Top Shelf Top Sellers & Favourites
Duperrey Champagne Nv (6 Bottles)
$354.00 $238.00
Free delivery on this item
Hurry, not many left!
Duperry Champagne - Premier Cru
Champagne Duperrey is sourced from 100% Premier Cru vineyards. This Premier Cru is fresh and full flavoured with a crisp dry finish. It shows fine balance between the elegance of the Chardonnay, and the roundness and fruitiness of the Pinot Noir. The palate lingers, with floral, dried fruit and brioche notes.

The Bottom Line Premier Cru Champagne without the premium price tag! Perfect for your winter celebrations! From one of France's most significant family-owned Champagne houses, GH Martel & Co., with history dating back to 1869! FREE DELIVERY!!

Multiple Award-Winner! - Winner of the Blue Gold at the Sydney International Wine Competition 2016, and the Blue Gold and Top 100 Ranking - Sydney International Wine Competition 2012!

Prices displayed may vary for the Northern Territory. Read More Here
Tasting notes
| | |
| --- | --- |
| Vintage | Non Vintage |
| Drink until | 2016 |
| Regions | france |
| Varieties | champagne |
Colour

Pale straw

Food

Freshly shucked oysters, grilled flathead and salty nibbly things.

Nose

Peach, citrus, straw, fresh-baked bread and grilled nuts.

Palate

Clear, vibrant fruit; apple, stone fruit, red fruits; with a hint of nutty complexity, creamy mid-palate and delightfully fresh, delicate finish.

Get the best Inside Deals 100% Money back guarantee Australia-wide delivery Need help? Send Us a Message
The WineMarket Guarantee
You'll get Great wines... Matched with Unbeatable value... Plus our Happiness guarantee... Topped off with Secure and easy payments Our Policies Delivery Options Returns Policy Privacy Policy T's & C's Customer Promise
Subcribe to our newsletter
Subscribe
Copyright © 2015 WineMarket Pty Ltd. All Rights Reserved. Licence No. 51402336. ABN 26130782919. Liquor Licensing Act 1997 (SA) WineMarket supports the responsible service and consumption of alcohol.
Siegersdorf Road Tanunda SA 5352 Australia