Alfaromeo 33 Boxer 16V - Immaculate fully restored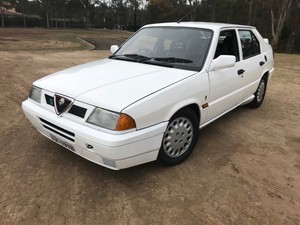 ---
For Regrettable Sale My Alfa 33 Boxer 16V in rare white colour.
Auction start at 0.99c but there is a reserve...
This car has been restored to its former glory with alot of money spent getting it right with no corners cut and only driven some 2000kms since completion. 
- Full respray in Alfa Bianco some three years ago. Body is immaculate. NO RUST AT ALL...
- Black side rubber moulds removed at time of painting and bumpers hi-filled and resprayed white to give the car a more modern look with euro spec side indicator surrounds... these parts are impossible to get myself importing obtaining the last know new set on the market pair from Greece. 
- Engine rebuilt , no smoke what so ever and pulls very strong. 
- gearbox rebuilt no crunching of the gears at all like many others you will see and drive ( gearbox and engine are so fresh they are still bedding in from rebuild ) 
- new clutch 
- front structs replaced and upper strut bearings, guaranteed not to be done on other cars as the parts are so hard to get. 
- interior dash removed and strengthened with aluminum plate and fibre glass to avoid cracking and squeaking, common problem in this model. 
- Cam belts and idler pulleys replaced some 2000kms ago. ( sticker under bonnet ). 
- new headliner fitted to match the original grey colour. 
- Brakes and master cylinders have been rebuilt / replced. 
- New 650 cold crank amp battery fitted, over sized for easy start with battery isolator switch for easy disconnection of battery if not driven for period of time to prevent battery draining or going flat. 
- at current no radio fitted as I am still trying source and original Alfa radio for this model, an aftermarket Sony head unit comes with the car just not installed.
 + many more items....  
Gets alot of attention when ever i drive it as there are so few of them left these days, as most have rotted away on farms or been crashed / thrashed beyond repair. Over $20K spent to get this car right, over above original purchase price of the car, and it now drives , brakes and shifts gears like a dream now with all the difficult and expensive mechanical and preventative work done. Drove from Sydney to Canberra for Auto Italia show in April this year with no problems at all and if anyone remembers whom made the trek, in very heavy rain too. The car purred all the way there and back like a modern car. If u are after a good solid turn key 33 16V then this is the one u want, others out there have been abused and guaranteed will need some form of mechanical attention. I know this as i have owned 4 of these in the past twenty five years, its in my blood.  
Alternatively u can go buy one for 3 grand and then spend over $20K like i did getting it all right.. 
 Roadworthy & NSW rego until Mar 2019. Please no low ball offers as i am not desperate to sell at all, and will keep and put back into storage, as i really do not want to sell as i will never find a like car to replace it with if i want one again in the future. Price is negotiable to the right buyer as alot of money has been spent here to make this a capable daily driver. If your looking at offering "$7K to buy it today" with respect don't waste your time. 
I have listed the car at a price to sell not for massive negotiation with an appropriate reserve. Low ballers are better off buy a $3K banger and restoring as i have and see if it can be done for what i have listed my car for. Guaranteed it can not be done as i have been thru the process already with this car and u will need well over $20K to do it to the level i have. Note the car is advertised elsewhere on enthusiast web sites and can be removed from sale here at a moments notice. 
Please no emails , Call or SMS Michael on 0419406837 anytime for any additional info or pics.
Happy to help and accommodate interstate purchasers and can take car to transport depot if required for shipping.
Approx transport costs ex Sydney to depot -  
Vic $650 / Qld $800 / SA $1000 / WA $1250. 
Note these are approximate prices obtained from basic internet quotes and you should do your own homework if interstate transport required. 
Main local car transport hub located nearby in either Moorebank / Wetherill Park NSW and car can be dropped off if required for transport to your local depot / door. Transport costs to be paid by buyer.
Contact to be made within 48hrs and payment made in 7 days. Can extend payment terms if arranged prior. Car will not be shipped or handed over until full payment is made.
Physical Inspection recommended as sale is final and unfortunately strictly NO refunds applicable for change of mind , circumstance , any other reason etc........
No warranty offered or implied as part of sale as all told, it is a used car in the end.
NO PAYPAL UNLESS U WANT TO PAY FEES.