2X Deluxe Large Scratch World Map Personalized Travel Poster Travel Atlas Decor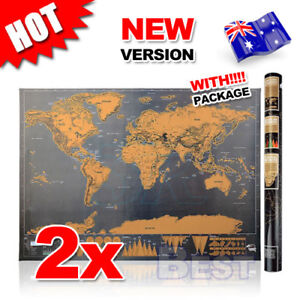 ---
Payment
We accept a range of payment methods: 1. Paypal - Instant 2. Preferred Options: Online Bank Transfer: Instant for Commonwealth Bank & ANZ Customers, 1-3 Business Days for other Banks. 3. In Branch Bank Deposit: Instant Deposit at any ANZ or Commonwealth Bank (Including Australia Post Outlets) Please ensure you leave your ID when you make a bank deposit either online or in branch. Otherwise we will not be able to identify your payment.
Shipping & Handling
We are committed to offering our customers the fastest delivery on . We ship items 5 days a week (Monday – Friday). We offer free regular shipping on all of our items for Australian Customers. We offer both Registered and Express shipping options for all of our items. Selecting the Express post shipping option will insure your purchase arrives within 1-2 business days of purchase. Delivery times vary according to your destination, please refer to the Australia Post Service Standards for specific delivery time.
Return & Feedback
We offer a 14 day return to base warranty if your product arrives faulty or does not meet expectations. Please contact us via messages or view our page for more information. We stand behind the products we sell and understand the importance of providing top rate customer service. If you have any issue regarding a transaction or a product please do not hesitate to contact us. We will be happy to help. We attempt to reply to all emails within 24hrs. Feedback is very important to us. We trust that our service and products will meet your expectations. If you have a problem, no matter how small please feel free to contact us and we will be happy to help.
Description
- Scratch World Map Black   - High Quality and Brand New - Color: Black   - Material: Laminate, card, colored foil   - Net weight: 256g   - Size: 82.5x59.4cm/32.5x23.4inch   - Package size: 62x5.5cm   - Geography Teaching Fun Toy.   - Scratch World Travel Map Poster.   - Beautiful scratch off gold foil material   - Each country is in different color on the map.   - Scratch Map is a large, high quality wall map which features gold top foil layer.   - Once scratched, this map reveals vibrant multi-coloured countries and other details to give the map a unique print.   - Unlike other scratch maps, this design features a deluxe black colour with copper detail to give a clean crisp presentation.   - Accurate geographical detail, Includes extra information and details   - Scratch off the gold layer on the countries you've visited to show everyone where you've been   - Fascinating info-graphics at bottom of map colorfully showing facts and information about the land and oceans.   - Great way to teach kids geography, study can be fun and colorful.   - This world map is based on the idea of the scratch card so you just scratch off the places you've been and bright colours will be revealed underneath   - Scratch Map also includes facts about certain countries and cities. Fun for the whole family or as great gift   - Scratch off where you've been in the world! - Fast Shipping From Sydney
Package
- 2 x Travel Deluxe Edition Scratch World Map - 2 x Carry Box      

© COPYRIGHT 2012. ALL RIGHTS RESERVED. TEMPLATE DESIGN BY 3R STORE