2002 Red Mitsubishi Challenger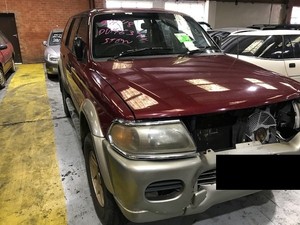 ---
Vehicle Condition Details

Please note that this vehicle is an abandoned or uncollected vehicle that is being auctioned under the relevant council or authority's legislation.

*Descriptions and photographs should be used as a guide only - if you are unsure, arrange a time to view before bidding as no refunds will be given.

*No Statutory Warranty or Cooling off Period applies for this vehicle – Condition unknown.

NTT Reference Number

D0146374B

Personal Properties Securities Register (PPSR) Check Results

Clear

Body Condition

See Photos

Interior Condition

See Photos

Registration

Unregistered  

Roadworthy Certificate

No

Key

No

Mobile or Immobile

Unsure (no keys)

Odometer Reading

Not visible

Transmission

Automatic
Additional Information:
Vehicle Location: Blackburn, Victoria
Acceptable Payment: Bank Transfer or Direct Debit is accepted prior to collecting vehicle. Credit Card (Visa & MasterCard) or Cash is accepted at collection. No Cheques. A tax invoice will be provided upon collection/delivery.
Viewing: The vehicle can be viewed Monday–Friday 9am-3pm by appointment only. If you require an appointment to view the vehicle, please ensure this is done so prior to bidding. No viewing of the vehicle is offered once the auction has ended, unless the vehicle has been paid for in full. You are bidding to BUY, not VIEW, the vehicle
Collection: The vehicle can be collected Monday–Friday 9am-3pm by appointment only and must be paid for and collected within 2 business days after sale.
Delivery: The vehicle can be delivered (transported) anywhere in Australia (door to door).  Delivery costs can be offered at trade rates and depend on the delivery requirements and drop off location.
Storage: Vehicles must be collected within 2 business days after sale to avoid additional storage charges.  Short Term Storage fees are $25.00 per day.  If long term storage is required, contact the Blackburn Impound for further information and costs.  If vehicle is not collected within 3 days, an unpaid case will be raised and the vehicle will be re-auctioned and sold.
Contact: Call 134 TOW(869) and request to speak with the Impound Administrator or contact via .
For information and details on upcoming public vehicle auctions held at Blackburn, visit the website: http://134tow.com.au/towing-services/auctions-sales/
By bidding on this vehicle you have agreed to our terms and conditions of sale. Please ensure you have read the information above prior to bidding as no refunds will be given.